RetailMeNot: Coupons, Deals & Discounts
Coupon App – Save Money on Shopping
If you are a fan of shopping but don't always remain on the lookout of sales and discounts then this is the app you need. RetailMeNot: Coupons, Deals & Discounts is a useful app that offers you information about sales, promotions, and discounted deals and provides coupons for your favorite stores. It enables you to save money by alerting you about sale events at stores near your location. You will be informed about promotions that are currently ongoing at different outlets and you can begin shopping immediately. This coupon app has coupons available as well that can be redeemed with consummate ease while shopping offline and online. In addition to this, there are cashback offers that can be availed to earn back some of the money you spend.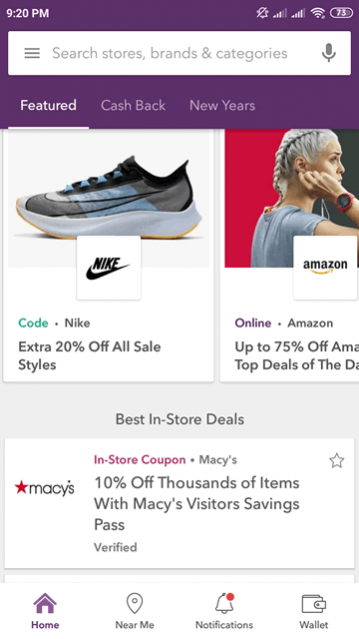 RetailMeNot: Coupons, Deals & Discounts has an intuitive user interface that makes it easier to use for one and all. The user-friendly design and layout of this coupon help you in navigating the various features it has to offer. However, before you get started, you would be asked to sign-in first. There are multiple options available in this regard. You can either choose to sign-in using your Facebook or Gmail IDs. If you don't have one of those, you can use your email ID for creating an account on the app too. Once the sign-in process has been completed, you will be asked to pick product categories and stores that you love. This will help the app in finding the deals and discounts that you are interested in.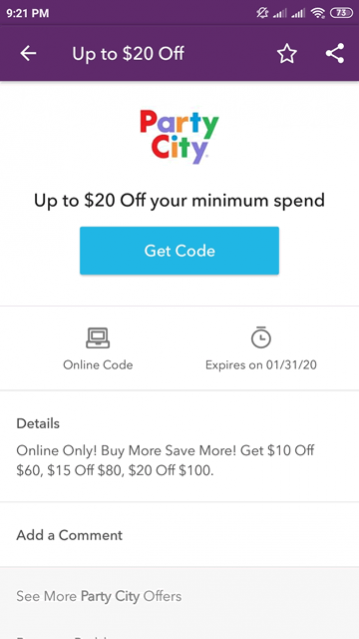 This coupon app provides discounts on a variety of products to you. If you can't find a deal for a product you are looking for, you can search for it. There is a search bar located at the top half of the screen. You can enter the name of the product, brand or store and the app is going to find the deals available for it. RetailMeNot recommends you to switch on your phone's 'location' feature. This allows the app to find deals and coupons for shops and stores that are located near you. There is a separate section provided for discounted deals and sales information in the app for nearby stores. If you like a particular deal or promotion, you can save it by clicking the 'star' icon located in front of it.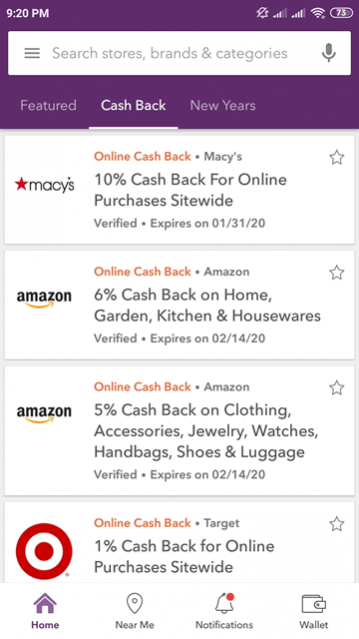 RetailMeNot: Coupons, Deals & Discounts verifies all the deals and coupons that it offers. So, you can rest assured that you will be saving money when availing the deals at the respective stores. This coupon app has coupons available for both offline and online shopping. Thus, whether you like in-store shopping or like to shop for your stuff online, you can take advantage of this app and save lots of money. The most unique feature of this app is the cashback offers it has lined up for you. These offers give you the chance to earn back the money you spend on buying your favorite products. You are also offered 'Rewards' in this app too that are also in the form of cashback.
Features:
Intuitive user interface
User-friendly design and layout
Multiple categories to choose from
Deals available from various stores and outlets
Promo codes on offer for a variety of products
Discounts information available for both online and offline shopping
Cashback deals provided to earn back the money
In-app rewards available in the form of cashback
Instantly learn about discounts with deal alerts
Chance to save the discount offer you like
Search option for finding deals from your favorite brands
Conclusion:
RetailMeNot: Coupons, Deals & Discounts is an app that will primarily appeal to people who love shopping but want to save money on their purchases too. It enables them to find all the discounted deals and promotional sale events going on at various stores near you. It is a coupon app worth having on your phone for smart shoppers.
---
Add a review
Tell us your experience with
RetailMeNot: Coupons, Deals & Discounts
RELATED PROGRAMS
Our Recommendations
---
---
---
---